Are you wondering what to do on your elopement day? In this post, I'll show you how to build the best elopement timeline.I'll also share with you two sample itineraries to give you some additional ideas.
And you'll be happy to know it isn't complicated.
After helping 100s of couples elope in some of the most romantic places in the world, I'm happy to share which timelines work best for the best elopement experience.  Inside my book "The Elopement Experience" I have a whole chapter dedicated to timelines but this will get you started.
You've booked your date, and your venue and vendors are all confirmed for your destination elopement wedding. Congratulations! You've done the hardest part, and the rest of the job is fun. Well, I think designing beautiful elopements is all fun but let's just say it get even more fun at that stage.
The next step is to build your elopement day timeline. 
It is much easier than a full-fledged wedding, which can often last 12 hours and sometimes even days. I think a good formula for successful Elopement itineraries are the ones that usually last about 6-8 hours, depending on what you include in your big day.
The more things you want to do, the more hours you will need. If good photography is important to you, avoid the mid-day hours, say from 10 am to 2 pm, when the light is harsh.
The most romantic light is usually from late afternoon until sunset.  Of course, early morning is also beautiful, but not many people want to get up at sunrise and get married.  However, I've held elopements in places like Venice or Santorini, where it can get super crowded so morning elopement weddings might be better.
The first thing to do is to look online to find out what time the sun will rise and set on your wedding day in the location you've chosen for your ceremony. Then plan your day around that time.
Personally, I think it is nice to tell the whole story of your day.  It doesn't have to be super extensive, which is the great thing about elopements. 
Short, sweet, and fun.
Not too short as you will miss an opportunity to have a memorable day and a unique elopement experience. Yes, some vendors and venues offer 2 hours but I'm not in favor of these types of elopements as it too short. And on the same note, there are some elopements that can last a whole weekend. Again it depends on what you want to do on your elopement day.
Personally, I focus on bespoke elopements with a full story of your elopement day.
Something to consider is an heirloom album, especially since you are likely to opt for a small to a non-existent guest list. 
You'll want something to show people who weren't at the ceremony.
Step 1: LIST EVERYTHING YOU'D LIKE TO DO ON YOUR ELOPEMENT WEDDING DAY
The first step in planning your elopement timeline is to list everything you want to include in your elopement day and the ideal itinerary.
Then add the allotted time. 
Finally, add a bit more time to each event to allow for travel between locations.  You want to take it easy and enjoy the moment instead of hurrying from place to place.
Important things to include on your elopement day:
This is the beginning of your elopement story. 
Getting ready part of your elopement day is filled with some of the most emotionally charged moments. 
Depending on your personal desires, you can get ready each separately or else you can break the tradition and get ready together. 
Eloping is all about planning your ideal day doing what you love.
I have seen both and both work.
The biggest takeaway here is you want to make your morning meaningful and filled with experiences you love. 
And each couple is different.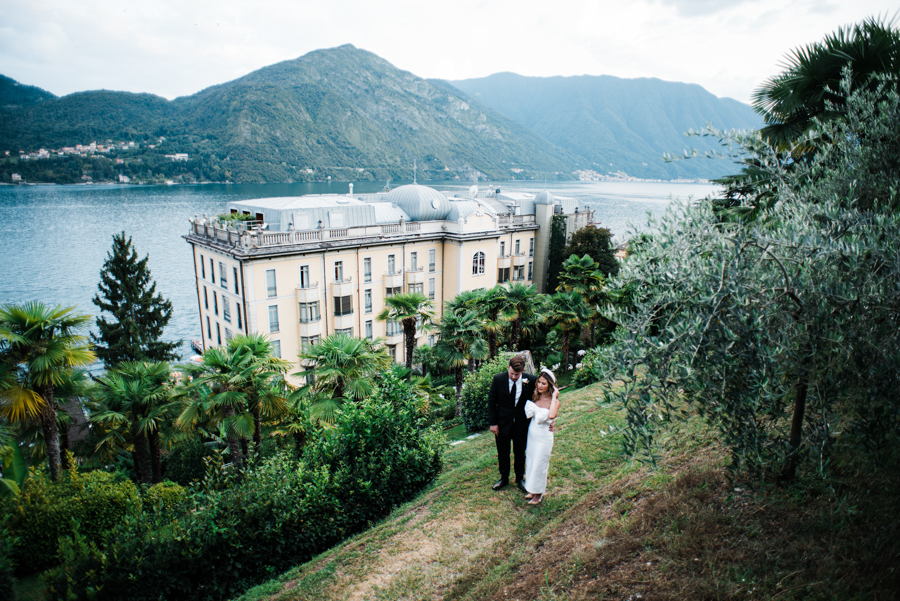 2. First look
Although this can serve a good purpose for traditional weddings, I find it unnecessary for elopements. 
Personally, I prefer the buildup of emotions of the first look being at the altar or ceremony.
If you do want a first look, then it should be before the ceremony and allocate about 1 hour.
3. Ceremony (1 hour)
A symbolic ceremony is short — about 20 minutes. Civil or religious ceremonies are a bit longer — 30-60 minutes.
If you're having guests, you'll want more time to shoot a few group photographs after the ceremony. You might want to include a toast right afterward so I suggest giving this section of your day a full hour. 
The last thing you want to do on your wedding day is to be in a hurry.
4. Newlywed photographs (1-3 hours)
You're now married, you've exchanged your vows and it's time to have some fun! What do you want to include? 
If you're in Lake Como for instance why not include a boat ride and visit the villages like Bellagio? 
If you're in Napa Valley or Tuscany, you can plan a wine tour. 
San Diego or Hawaii, why not do a Hot Air balloon or helicopter ride?
Or perhaps you want to include a newlywed stroll through the village, along a beach, or in a garden, to use as strategic spots as backdrops.
A good photographer should know where these are. So make sure you choose a qualified photographer who knows the area.
With destination elopements, it's nice to incorporate the location in the photographs.  After all, you chose that location for a reason and you want to incorporate the culture of the area. It tells a better story.
5. Hours Reception & Intimate Dinner(1-3 hours):
If you are thinking of having an intimate dinner, Reception, or simply just cake and champagne, add on at least 2 hours.
You'll want to arrive at the location about ½ to 1 hour before sunset to get some natural light.
You can go into the evening, but the most magical light is natural light. 
I've photographed a few elopements with fireworks, and if that's part of your plan, add some extra time accordingly and it would be best to use 8-10 hour itinerary.
If there's going to be the first dance or any other ritual you want to include, you'll want shots of that, as well.
Here are two sample Itineraries
6 Hour Elopement Day Timeline Example
(Sunset at 8:00 pm)
3-4 pm – Before the ceremony shots, getting ready.

 

4-5 pm Ceremony

 

5-7 pm Newlywed photographs

 

7-9 pm Dinner (with cake-cutting)
8 Hour Elopement Day Timeline Example
(Sunset at 8 pm)
3-4 pm – Before the ceremony shots, getting ready.

 

4-5 pm Ceremony

 

5-8 pm Newlywed photographs

 

8-11 pm more elaborate Dinner (toast, cake, dance, and fireworks)
I hope this post helped clarify your ideas for your elopement wedding timeline. 
If you need help with your elopement, I'd love to help. 
You can email me and we can schedule a  free consultation call.