Elope to Southern California
FAVORITE PLACES TO HAVE A SO-CAL ELOPEMENT
Southern California literally has it all — miles and miles of white sandy beaches, the desert, crazy beautiful National Parks and forests, as well as many gorgeous courthouses. But why not think outside the box and get married on a beach at sunset? In this post, I'm going to share with you some ideas to elope to Southern California.
The best part? The weather is good all year long, from January to December, and you'll find lots of fun things to do on your honeymoon without leaving the state.
You can go as simple or as elaborate as you like. You can DIY your whole elopement or you can hire a wedding planner to arrange everything, booking the venue, ceremony, flowers and hair and make-up. Even if it is just the two of you, you can still have your dream wedding. Add your personal touch to everything you do. Choose your ideal location, then design the bridal bouquet with your favorite flowers, decorate the wedding venue and end your day with a romantic sunset dinner.
1. Elope to San Diego
They say that San Diego has the best weather in the world year-round. The average temperature hovers around  70-75 degrees Fahrenheit and the atmosphere is super laid back, a surfer's paradise. Some places in the area with especially beautiful backdrops are Sunset Cliffs, Coronado Island, La Jolla, Solana Beach and Del Mar. There are many venues for a formal ceremony, as well, such as Ranchos Santa Fe Inn, The Fairmont del Mar, La Valencia, The Prado at Balboa Park, and Ranchos Valencia.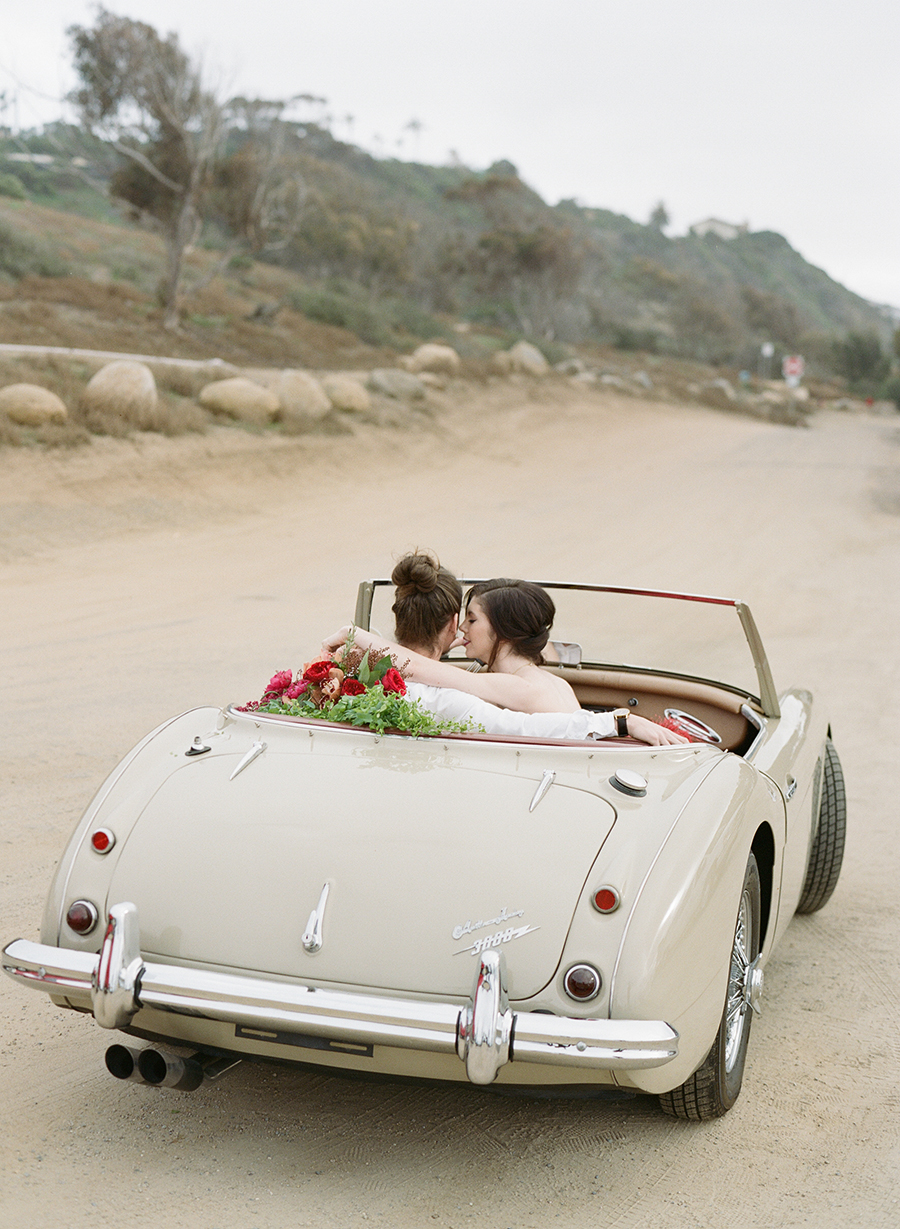 BELOW ARE A FEW SAN DIEGO ELOPEMENT IDEAS
How about Eloping in Sunset Cliffs?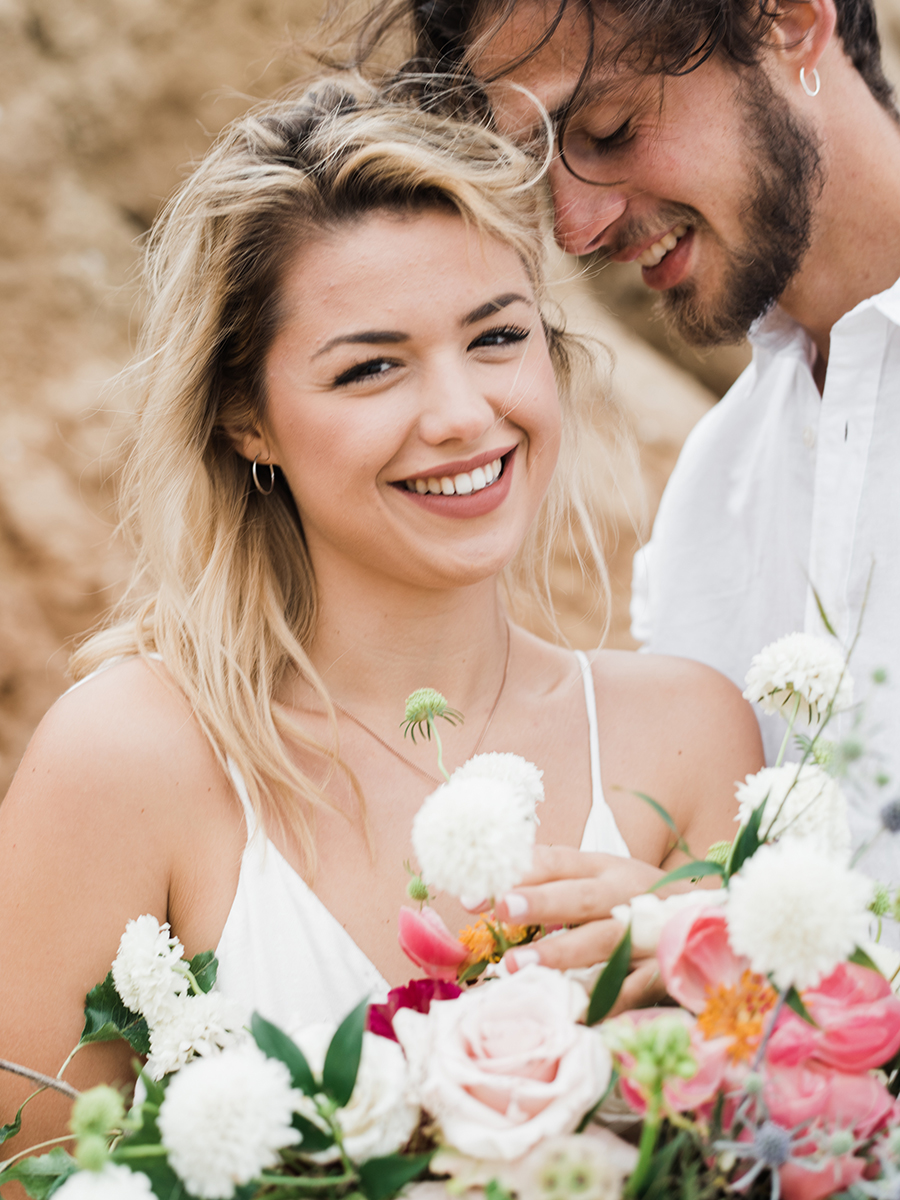 2. THE DEL MAR FAIRMONT
How about  tying the Knot inside the stunning Mediterranean  styled Fairmount Del Mar? Here you have the european backdrops, the gazebo , with beautiful fountains and grounds with a Venetian touch to them. You can say I do in the charming Gazebo, newly wed around the Florentine designed grounds dotted with  Tuscan cypress  and Roman Pine Trees and have a romantic dinner for two at one of their charming restaurants.
3. A RANCHO VALENCIA ELOPEMENT
4. THE "DEL" ON CORONADO ISLAND
5.  LA JOLLA, ON THE BEACH
A Ceremony on the Wind & Sea beach in La Jolla, sandy feet, and a romantic golden light…hire an officiant & exchange your vows with the roaring ocean.
2. Elope to Santa Monica and Los Angeles
Both Santa Monica and Los Angeles are favorite wedding destinations. Santa Monica, with its colorful pier, provides a cheerful, fun backdrop, and its long strip of white sandy beaches make ideal locations for a casual ceremony. .. Nearby Beverly Hills and West Hollywood offer intriguing urban backdrops.
Just up the coast from Santa Monica, Malibu boasts some of the most breathtaking beaches in California: El Matador and Paradise Cove
A Santa Monica and Los Angeles Elopement idea:

How about the combination of having a beach ceremony at Santa Monica and then head inland for your newlywed portrait photographs in and around Beverly Hills or Hollywood area. And end your wedding day with a romantic dinner for two at the Iconic Beverly Hills Hotel.

Greystone Mansion – Another favorite venue in Beverly Hills, Los Angeles

Tucked away in the in Hills, this mansion is a hidden gem. The distinctive gardens and brick structure are drop-dead gorgeous. The panoramic view of downtown LA is well just stunning. With the all the fountains, gardens, you have endless romantic places to say I do.
Best time of the year to elope in Santa Monica and Los Angeles: All year! 
3. Elope to Palm Springs
Elope to Palm Springs: Palm Springs is a desert city in the Coachella Valley surrounded by the stunning San Bernardino and San Jacinto Mountains. The town has a great artistic and retro feel to it. If you like the aesthetic of the 1960s and '70s, and prefer something out of the ordinary, you will love Palm Springs. Everything about it is stylish yet bohemian. The town offers many boutique hotels and charming settings for eloping., and there are romantic apartments available for rent. Check out the Parker Ace or Avalon Hotel. For an outside ceremony, Thousand Palms Oasis, Indian Canyon, and Mt. San Jacinto State Park are great choices with crazy beautiful backdrops.
For an outside ceremony, Thousand Palms Oasis, Indian Canyons, and Mt. San Jacinto State Park are all lovely settings for their ceremony with crazy beautiful backdrops. As for desert backdrops, you have the beautiful mountains and tall Palm trees.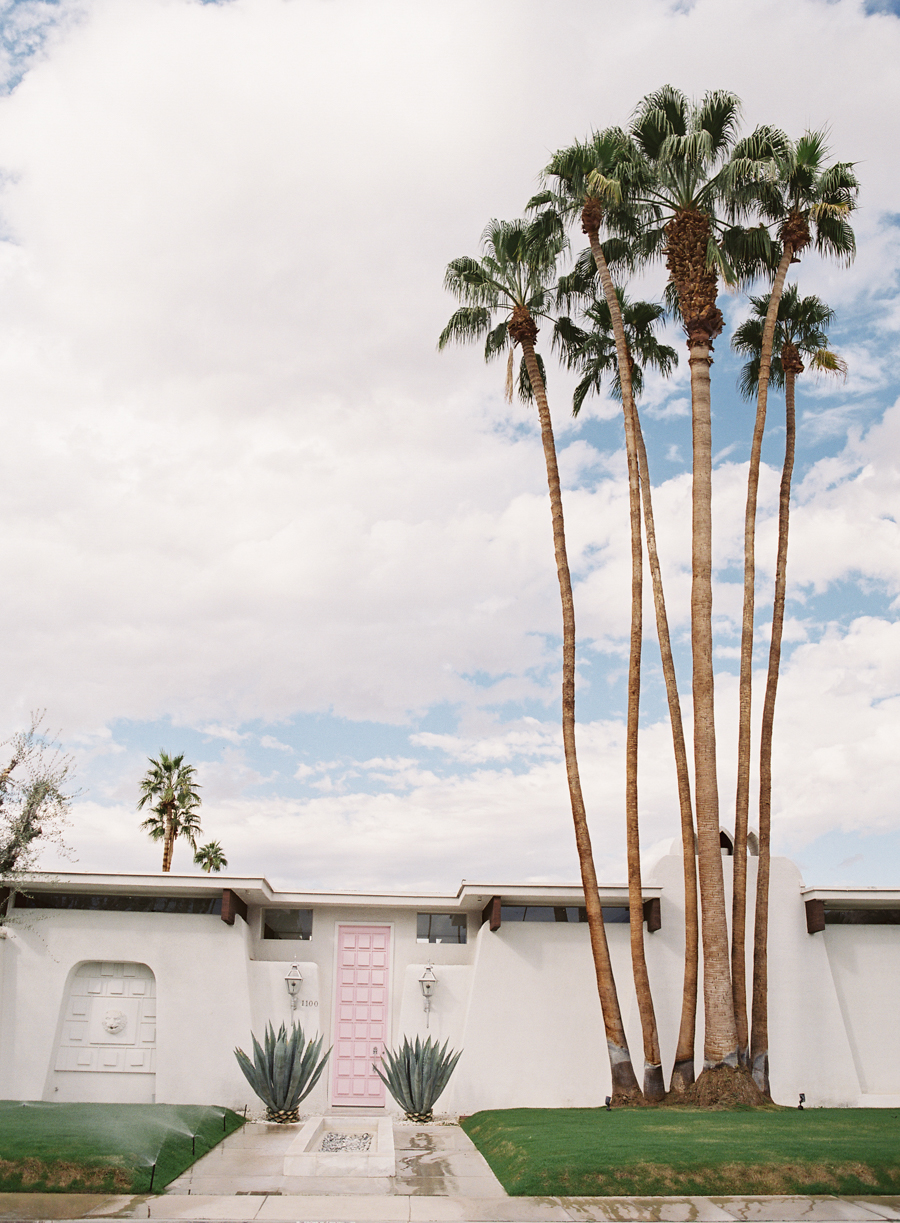 Best time of the year to elope in Palm Springs: January – May and September-December. Avoid hot summer months when the temperature tops out at 110+ degrees! 

Click here to view a Palm Springs shoot

4. Elope to Joshua Tree
Joshua tree is like stepping on another planet. The National Park is pure wilderness, with massive piles of boulders and rock formations dotted with spiky Joshua trees and cacti. I There's no Internet reception, so the place has a strong sense of privacy and intimacy. If you are a nature lover, you will be totally enchanted by Joshua Tree.
Elope to Joshua Tree Idea:

You can choose an intimate ceremony in the National Park or one of the boutique hotels. Avoid the summer which can get super hot in the 100s. There' s always a chance of snow in the winter, but that could make for gorgeous backdrops of white-trimmed Joshua Trees. You'll have to snuggle up to get warm.

Here is a Bridal Shoot in Joshua Tree for a few more ideas
>