Ahhh! Venezia! Venice doesn't really need an introduction as it is world-renowned for it beauty and art. But in this post,  I'd love to show to share a few ideas on how to elope in Venice. It can be a bit tricky.
If you want to elope in style, and you love art and culture…. then Venice is the place to elope too.
It is the definitely one of the most romantic places in the world. Venice is simply magical: the food, the gondola rides, the canals, the art, the language and the Palazzi. No cars, only canals and tiny alleys. Away from it all, you're swept away in a world of romance and history dating back to the Renaissance.
The floating city of unparalleled beauty.
Italy is perfect for elopements and every region is different.
There are various options for places to stay from numerous luxury and romantic Hotels to simple airbnbs or apartments.
For your newly-wed portraits around Venice you have endless backdrops including the Grand Canal, Ponte dei Sospiri, Rialto Bridge, the tiny roads of Venice.
You can either rent a boat like Julie and Brian did or else have a gondola ride or both!
The Elope in Venice Guide
You definitely want to avoid the high season which is summer as it is really crowded and hot. Remember, Venice is quaint and it gets filled up very quickly.
Also try to avoid eloping in Venice during the Carnival season as it is uber crowded as well. Prices will go up as well.
Try to elope in Venice during the low seasons like early Spring or late Autumn also winter is beautiful (but not during the Carnival season). Prices will be lower, it won't be as hot and touristy.
Legal requirements different from country to country but usually in Italy it is fairly simple. But it is highly advised have someone help you with the paperwork.
You can have various types of ceremonies. If you want a religious ceremony, you have many churches to choose from if you want to elope in Venice.
If you want a civil ceremony, then you have  the stunning Palazzo Cavalli which is the City Hall of Venice with a stunning view of Rialto Bridge (see below).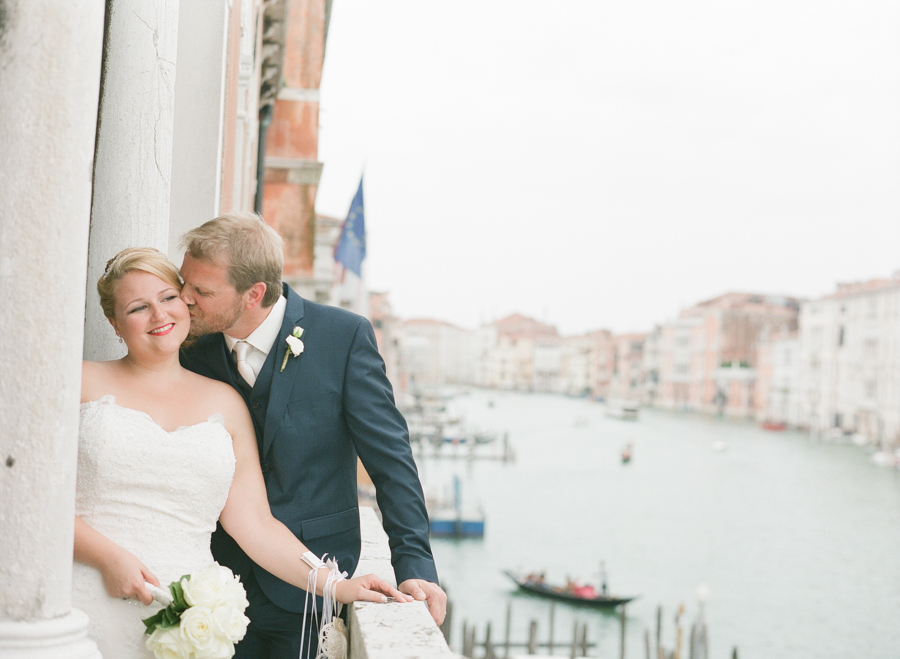 Elope in Venice: Ideas for your Newly-Wed Portraits:
A sunset gondola ride along the Grand Canal
Go to one of the nearby Islands like Torcello or the Lido.
Ponte Dei Sospiri
Rialto Bridge
Around the tiny roads of Venice
On a bridge